Have you ever seen an "everyday miracle?"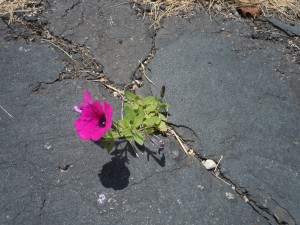 I believe we will find "everyday miracles" around us if we just open our eyes to see them. God is so amazing and when I slow down long enough to notice, I find little surprises all around me! For example, a miracle sprouting up in my driveway.
Can you believe this beautiful petunia? Yes, it is growing in the middle of the asphalt! Never planted…never watered or cared for…but still growing and blooming and vibrant! This flower that grew in my driveway looked better than some of my potted ones planted in fertilized, beautiful, nutrient rich soil!
This petunia teaches me a lesson in perseverance.
When I first saw it, I immediately thought about
Romans 5:4
:
"…
we know that suffering produces perseverance; 4 perseverance, character; and character, hope
." NIV
…and
James 1:4
:
"
Let perseverance finish its work so that you may be mature and complete, not lacking anything
."
This little seed, wherever it had come from, had persevered through the rock, the lack of rain, and even the lack of nurturing.
Even through trials, hope perseveres!
Persevering with you,
Tracy