"Don't Worry 'bout a thing...Cause every little thing will be all right..."
-Bob Marley from the song, "Three Little Birds"
I love this song from Bob Marley. As I ponder the words I am reminded of how easy it is for me to get caught in the trap of worry. There is so much to do- the house to be cleaned, mountains of laundry to wash and put away, errands to run, the monthly bills to be paid.....
There are so many "little things" of life to fill our minds with, not to mention any difficult trials that we may face. For me, it is all of the little, mundane, nit-picky things that are nagging at me....
Yes, I can get caught in worry.
But Jesus said, "Therefore, I tell you, do not worry about your life, what you will eat or drink; or about your body, what you will wear. Is not life more important than food, and the body more important than clothes? Look at the birds of the air; they do not sow or reap or store away in barns, yet your Heavenly Father feeds them. Are you not much more valuable than they? Who of you by worrying can add a single hour to his life?"
God takes care of the birds. If He loves and cares for these simple creatures, won't He provide everything I need today? Won't He provide the time I need to take care of my family, my home, and my job? Won't He help me to prioritize my time? My worrying WON'T add any minutes to my busy day, but God can supernaturally help me accomplish all that HE CALLS ME TO DO (notice I said what HE CALLS ME TO DO)! After all, didn't He stop the sun for Joshua so that the battle would be won?
Jesus continued, "And why do you worry about clothes? See how the lilies of the field grow. They do not labor or spin. Yet I tell you that not even Solomon in all his splendor was dressed like one of these. If that is how God clothes the grass of the field, which is here today and tomorrow is thrown in the fire, will He not much more clothe you, O you of little faith? So do not worry, saying, 'What shall we eat, what shall we drink, what shall we wear?' For unbelievers run after these things, and your Heavenly Father knows that you need them. But seek first His Kingdom and His righteousness, and all these things will be given to you as well. Therefore do not worry about tomorrow, for tomorrow will worry about itself. Each day has enough of worry of its own." (Matthew 7:25-34)
I don't need to worry about all of these "little things." When I first seek His Kingdom, when I get down on my knees, surrendering my time and my day and my details- the "little things," He is working it all out. If He takes such good care of the birds and the flowers, how much more will He take care of ME- His treasured possession, the apple of His eye, made in His image??????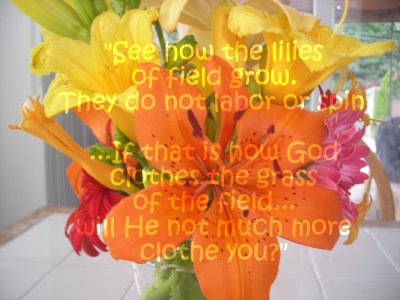 The enemy would like for us to take our eyes off of the King, caught in a trap of worry, feeling depressed, fatigued, worn out, stressed out- but God says, "Let me take care of it!" Or, as Bob Marley says, "Don't worry about a thing...cause every LITTLE thing is gonna be all right..."
God cares about us! He cares for His Creation!
Many times, we can fret and worry and become distracted with our circumstances and discouraged with our troubles...
But Jesus tells us that our Father in Heaven is watching over us.
He cares about the birds of the air.
He cares about the flowers in the field.
And, if He cares for these "little" things-
how much more does He care for you-
His precious daughter-
made in His image?

So, today, give Him your worries.

Give Him your concerns.

Trust in Him~rest in Him.

He cares.

"Worry does not empty tomorrow of its sorrows, it empties today of its strength."

-Corrie Ten Boom
Father God, thank you that you care for me. Thank you that I am precious to you. Thank you that you will give me everything I need! Today, I will "be anxious for nothing, but in everything, by prayer and petition, with thanksgiving, present my requests to you." Thank you God for your loving kindness and care. I present my laundry, my chores, my family's health, and whatever weighs upon my mind TO YOU. Thank you that you are taking care of it all. In Jesus' precious name I pray. Amen.